Today's Consumers are Connected Consumers
Is your brand serving them right?
Create a customer journey framework | Tailor the experience as per different personas |
Delight customers at every touchpoint to orchestrate a winning CX.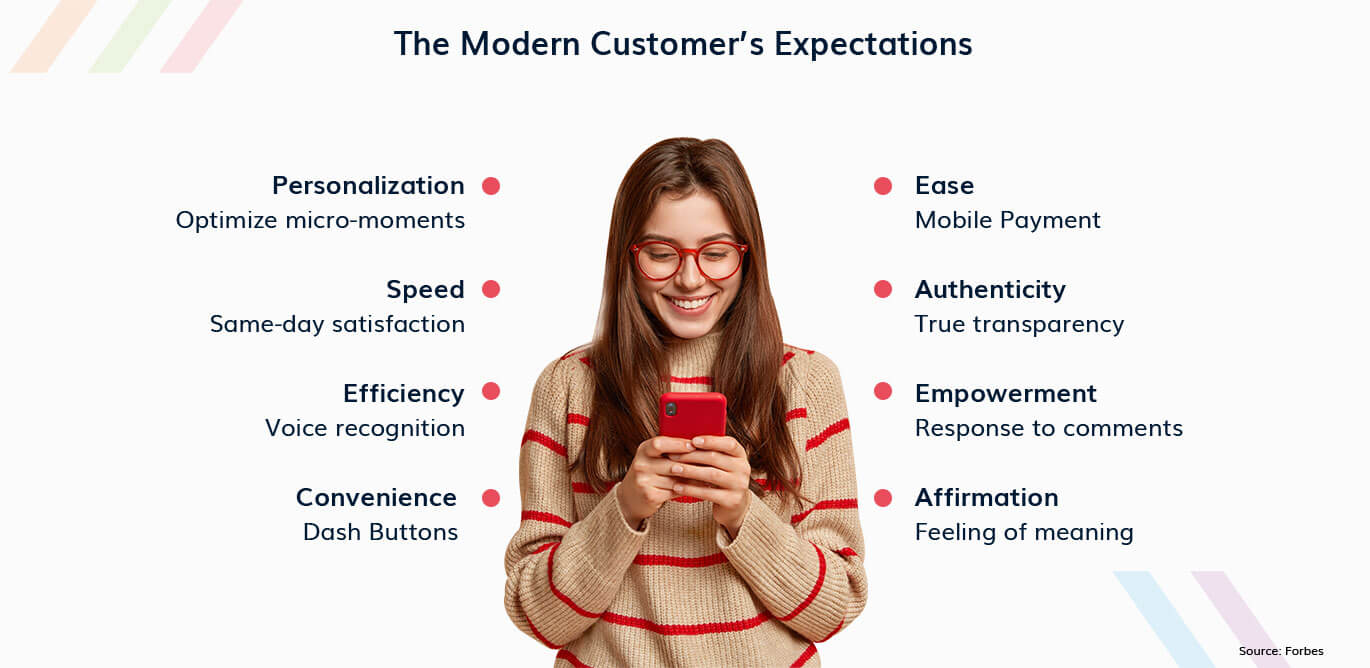 Meet Rhea, a typical 30-year-old customer who works hard to manage job & family. Rhea loves to manage everything by herself and hates wasting her time. Customers like Rhea want brands to value their time and provide them with customized and connected experience. They want every step of their journey to be digitised and carefully orchestrated for a consistent & contextualized CX.
What do modern consumers crave?
Consumers, nowadays are driven by new set of demands and expectations for connectivity, immediacy, and contactless experiences at every step
Characteristics of Today's Connected Consumer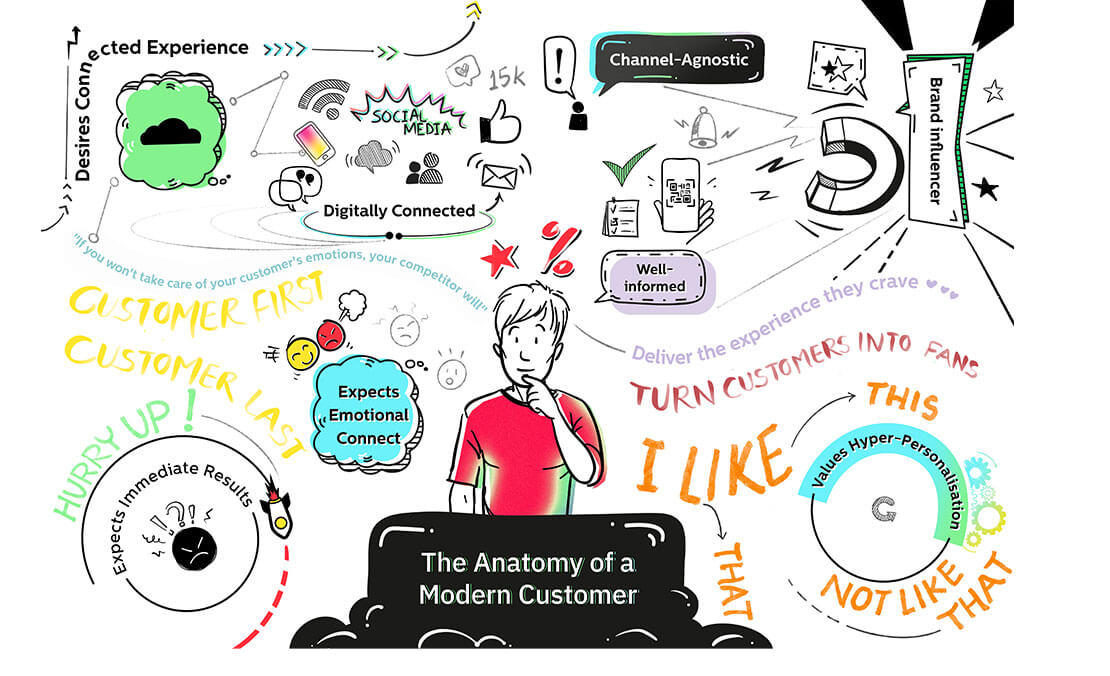 Tech- enablers of the Connected Customer Experience
1. Customer Data Platform
It is vital for brands to have an in-depth understanding of their customers to build long-term business relationship. And if businesses don't combine customer data, they will fail to know their customers well, leading to lacuna in CX, failure to recognize loyal customers & increase retention.
Customer Data Platform unifies the customer data from all touchpoints to create a 360-degree customer view
2. Artificial Intelligence (AI) and Machine Learning (ML)
Artificial intelligence helps businesses in delivering tailored product recommendations as per customer's preference and setting the optimal pricing. By integrating AI and ML to inculcate a data-driven approach for better decision making, customer journey can be enhanced across all channels.
3. Conversational Commerce
Conversational Commerce has proven to be a resilient sales & support channel, helping brands significantly enhance their CX. An omnichannel experience where customers can move seamlessly between physical and digital channel and still get an organized CX — all using a virtual assistant.
Predictive analytics is making huge strides as businesses today strive for data-driven insights. Know what happened, what can happen and figure-out what should be done.
Listening to the data aids in decision management, predict purchase behaviour, plan campaign economics accordingly and help brands achieve business excellence.
It's usual for any brand to have its fair share of detractors but best brands go the extra mile by following up and taking care of the issues and can turn them into promoters, thereby improving the Net Promoter Score (NPS).
Advanced VoC solutions serve as an intelligent end-to-end platform for gathering feedback across multiple customer touchpoints, providing real-time analytics and text analysis. The solution enables brands to capture sentiments and improving overall loyalty index and customer satisfaction.
"Get closer than ever to your customers. So close, in fact, that you tell them what
they need well before they realize it themselves."
— Steve Jobs, Apple
Brands must Re-Imagine ​how they Acquire, Engage, and Retain ​Modern & Connected Customers
Does your CRM cater to connected customers?​


Zence is a combination of products which help brands offer a connected customer experience — from Acquisition to Retention. The suite unifies Lead Management, Loyalty Program, Campaign Management, Ticket Management, Feedback Management, Customer Data Platform + Insights.
Zence 360° CRM solutions help brands break the silos and brings sales, service, marketing, and analytics together to power unified brand's Customer Experience