Channel Partner Loyalty Programs

And Why The World Needs Them?
The term 'loyalty program' is not new to the marketing world. Enterprises placed a strong focus on keeping customers happy, wanted, heard, and understood even before the term made a formal entry into the world of business. Research indicates that retaining existing customers is easier, and more cost-effective than converting new ones. And this is where loyalty programs scored a winning goal for enterprises.
However, when we talk about loyalty programs, we co-relate them with B2C companies and the plethora of options given to the end customers out there. The B2B space is not placed on the same podium, even though the end goal is intrinsically similar to a B2C loyalty program's approach.
As companies deep-dive into structuring new marketing strategies, there is no one-size-fits-all approach when it comes to investing in building long-term client relationships. From channel partners to retailers, influencers to customers, a B2B channel partner network is an inherent part of the overall business cycle. The dynamic nature of the modern-day business ecosystem brings us to a fundamental question: How do loyalty programs evolve in order to keep pace with the rapidly changing business environment?
In this blog, we will look at what B2B loyalty programs for channel partners are, and why investing in your stakeholders is more crucial today. By examining the need to roll out a well-designed program and what it should potentially comprise, we attempt to display how they can transform channel partner loyalty, sentiment, and brand advocacy.
B2B Today
This common abbreviation indicates businesses that transact with one another, either at a singular or multiple-chain level. A channel partnership is where one company takes on the back-end role of producing a product or service while the second takes complete ownership of sales and assumes a front-end role with the targeted customer.
The nature of today's evolving business ecosystem poses multiple challenges to B2B companies where the focus goes beyond sales. The creation, maintenance, and retention of customers in one's network are paramount, whether it's with channel partners or with the end consumer who is using a specific product. With enterprises increasingly migrating to online platforms, the internet has turned into a vast and fertile space for them to find new avenues of engagement with other businesses. This goes hand in hand with employing relevant and effective strategies to build long-term relationships with clients.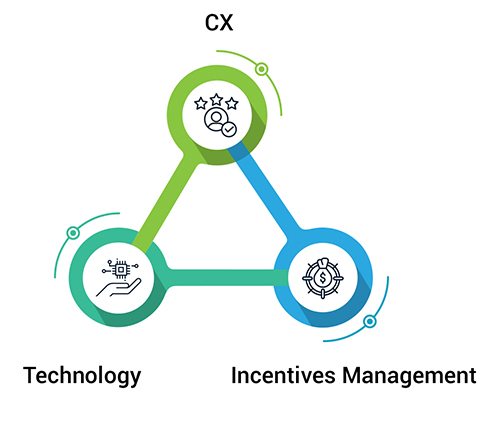 What is B2B Channel Loyalty?
When companies set out to research, reach out, employ, and work with other businesses, the relationship is often that of a collaborative nature where the end goal is to accomplish a transactional purpose. Investing in long-lasting relationships that will keep your clients proactively engaged is a mega B2B channel loyalty goal. Needless to say, reaching out, capturing mindshare and nurturing it, and building a transcendental transactional bond with channel partners will allow your enterprise to go that extra mile in engagement.
The difference between B2B and B2C loyalty strategies lies in the customer base of companies. While B2B caters to a more niche pool, B2C has a more generic and broader net to cast. This implies that loyalty strategies will need to be tailored to suit respective client bases, even as they evolve to stay relevant.
Omnichannel Loyalty
A term that was once used at will is now one that has become a necessity. To seamlessly integrate a company's services across the online, offline, and mobile channels is the essence of omnichannel marketing. Not only does a brand make itself more accessible to people, but also enhances customer experience (CX) into a more uniform, and often positive experience. Where do B2B companies and their loyalty programs fit into this picture?
The key to capturing a larger marketspace is to engage the target audience relevant to the products and services on offer. Since customers have greater options via diverse channels to approach brands from, businesses need to capitalize on retaining their customer pool and building brand advocacy, especially where the B2B segment is concerned.
A worldwide survey conducted in 2021 highlighted how every one in two B2B decision makers considered using omnichannel action to reach and serve customers. With 76% of B2B companies using marketing strategies in the U.S. alone, research indicates that adopting newer, well-designed, and effective plans to attract, retain, and reward customers across channels.
The key factors in B2B Channel Loyalty
The dynamism with which businesses evolve to meet client needs is enthralling. From standalone brick-and-mortar stores to embracing a more omnichannel route that encompasses the digital space, the business-customer evolution is synergistic. Adopting an omnichannel route also provides clients access to multiple platforms thereby making it imperative to create a loyalty strategy that is both attractive and high on value. So, what makes a great B2B omnichannel loyalty program?
I. Customization
A B2B customer base is more refined and homogenous than a B2C customer base. This makes it necessary to create meaningful channel incentives which appeal to a customer's varying needs.
II. Personalization
Strong communication goes hand in glove with effective and personalized communication. For enterprises, there's nothing more detached than being generic and non-exclusive with people you wish to build a long-term association with. However, more than 38% of customers say they will stop doing business with a company if they find their personalization efforts "creepy", says a Gartner report. This ascertains the fact that the subtleties of personalization go a long way in making or breaking a deal.
III. Relevance
A B2B company's customer pool is not homogenous where needs and outcomes from their partner association are concerned. Therefore, efficient research to know your client effectively allows companies to give them what they're seeking.
IV. Value
Affirming a client's presence and contribution to your business is the driving force of any loyalty strategy. Value can be driven by incentives, rewards, and recognition that contribute to an enhanced sense of belongingness towards a brand.
Challenges of a B2B loyalty program
As we've seen so far, a good loyalty program is one that is expertly designed and tactfully executed. While B2C companies target customers who are mostly singular in nature, B2B enterprises may often find their end buyer to be more than one person. A potential B2B customer would comprise heads of businesses, finance departments, technical teams, and procurement teams; each representing their own values and needs to be fulfilled by the seller. Therefore, one of the biggest challenges B2B companies face is the simple question – which component of the buyer do they profile and then target – the singular or the whole?
To be able to provide a tailored program that delivers optimum customer experience across transactions and time, B2B companies must decide how to fragment and unify their engagement strategies skilfully. Highlighting value-drivers and economic opportunities across customer segments helps companies align with their long-term brand loyalty goals.
Keeping program structures simple and to the point also allows customers to experience a hassle-free, cleaner interaction with the brand. A simplified program allows for faster and greater adoption, directly resulting in higher incentivization of behaviour.
Use Cases
I. PC vendor helps retain a new acquisition's business partners with an award-winning loyalty program
When a global PC vendor acquired a section of its competitor's company, they were posed with a threat of high business partner (BP) attrition. In order to keep them loyal and merge with the parent company's existing BP network, they were enrolled under a loyalty program which made them earn rewards via both learning and sales. The results of the program were outstanding. The acquired BP network remained loyal to the parent company and helped contribute to significant growth in sales, of 40% over target.
II. Eyewear brand increased lead generation by 943% with a tweak in its B2B loyalty program
A popular eyewear brand noticed an upward trend in its website's bounce rate which touched a high of 90%. Their existing loyalty program wasn't giving them the results they wanted. Reworking the chinks in their approach, the company built a strategy to identify its audience, understand them better, and make the necessary changes to its website, in order to get speedy and positive results. Not only did the bounce rate reduce to below 20% but the brand also saw a huge increase in lead generation, thus becoming an award-winning marketer.
III. Cutting through stiff competition by gamifying loyalty programs
Navigating the choppy waters of a highly competitive travel industry, a cruise company gave its B2B loyalty program an uplift. By gamifying their strategy and ensuring that everyone got something from the program, the company was able to motivate over 10k new travel agents to upsell cruises to their clients. Also, by adding value to the rewards catalog, creative incentives were deployed to motivate existing and new partners who made sales and revenue rise by 13% respectively.
Examining the foundations of a strong loyalty program proves that not only is it important to invest in customer loyalty but also that each company requires bespoke loyalty solutions to give their customers value and reassurance in this world of relentless economic fragility. A Gartner report found that 44% of customers worry they've missed a better opportunity every time they make a purchase. Companies need to help their customers feel a sense of confidence in their brands where everything is easily accessible yet equally fleeting. Here's how Easyrewardz, your Channel Loyalty solution provider, makes this happen.
Brand advocacy and empowering channel partners
Brand fidelity is a goal all companies strive for. How does one capitalize on a customer's mindshare to drive loyalty, and subsequently gain retention in the process? Easyrewardz understands that network channels are key to driving business, and therefore, assists companies in creating loyalty strategies that enhance channel partner motivation. The need of the hour isn't just about enhancing loyalty but also designing a strategy that is created to meet the needs of your company and its clients. Easyrewardz offers businesses an end-to-end Channel Loyalty program with specially curated channel design and strategy, rewards, program management, and analytics to drive measurable results.
Brand advocacy stems from the basic tenet of trust. In order for a customer to continuously engage with a brand, businesses need to chart a path of value; a space where buyers feel comfortable enough to advocate and be rewarded for it as well. Additionally, and equally important is the initiative companies need to take in order to understand how their brand is being perceived by existing and potential customers alike, especially where product and service promotions are concerned.
Easyrewardz end-to-end B2B solutions
Our approach to creating a customized loyalty strategy is intuitive, interconnected, and insightful. Keeping Reward and Recognition parameters in mind, Easyrewardz strives to deliver a design that has something for everyone. The B2B solutions package encompasses 3 fundamental components of a successful loyalty program: Technology, Incentives Management, and CX.
Motivate and engage your Channel Partners with an exclusive Channel Rewards Program
Redefine the parameters with a unique mix of

At Easyrewardz, the focus lies on creating a program that is tailored to meet your business expectations as well as your channel partners' needs, thereby making this an experience that is unique, personalized, and professional.
Conclusion
There are many key pillars of an effective B2B loyalty strategy. But the one pillar that stands tall is the need to focus squarely on the customer. Identifying audiences, understanding them better, customizing and personalizing strategies to give them more than just superficial rewards, and most importantly, affirming their presence in your business and its long-term goals is paramount to a sound, successful, and well-designed loyalty program.
Easyrewardz provides personalized end-to-end channel rewards programs in a way that speaks of a relationship that is bespoke and transcends transactions between a company and its partners.