Is Your Business Leaving Money
on The
Table

Cart?
Reduce Cart Abandonment
Boost Conversions
"A 2022 research conducted by the Baymard Institute found that the average cart abandonment rate for online retailers was a whopping 70%"
This means that even in a best-case situation, close to three-quarters of shopping carts are abandoned before a user converts.
Despite rolling out the best strategies to attract traffic, marketers have to grapple with the fact that a majority of visitors to their website leave empty-handed. The road to getting online customers to make a purchase run through a leaky funnel, and high cart abandonment rates play a key role in missed conversions.
Cart abandonment has emerged as an important metric for e-commerce sites. If the number of users abandoning their shopping baskets is high, it should act as a wake-up call for retailers. It signals poor user experiences and gaps in the sales funnel. Conversely, low cart abandonment results in high sales and revenue.
It is impossible for marketers to eliminate abandoned baskets completely. An inevitable truth of e-commerce sales is that some people will abandon their carts just at the point of purchase. However, it is possible to improve user experiences and turn shopping seamless in order to combat this hurdle head-on.
In this blog, we'll decode the reasons why shoppers abandon their purchases and look at the key tools that empower marketers to improve conversion rates.

Cart abandonment is when shoppers add items to a website's shopping cart but leave before finishing the transaction. Any item that enters the shopping basket but doesn't make it through the transaction is said to be `abandoned' by the customer. Retailers must pay careful attention to this metric as it directly correlates to conversion rates and revenue.

There are many reasons that drive customers to leave their carts without making a purchase. If marketers want to understand what causes shoppers to abandon their shopping items, they must know the triggers – that range from high shipping costs to security concerns.
Complicated check-out process: Once a shopper has filled her cart, she wants a fast and seamless checkout process. 18% of customers abandon their carts when they are faced with a long-drawn checkout. Complicated procedures that require users to fill out forms and go through multiple steps can slow down the shopping process, create impatience, and even make some users decide not to come back. It's important to keep the checkout short, simple, and seamless.
Save now, Shop later: Modern shoppers have turned omnichannel. With the rise of the internet and mobile shopping, customers are spoilt for choice. It's easy for them to add items to their cart, then compare products, prices, and promotional offers, and shop from a retailer who they think offers the best deal. They might also save an item in their shopping cart to buy later. This kind of cart abandonment can be curtailed by sending targeted WhatsApp notifications – that serve as a reminder or increase FOMO by informing the shopper that stocks are running out.
Concerns over security of payments: Many customers are cagey about making online payments and providing their personal and banking information on shopping websites. If the payment process does not come with an absolute assurance of security, users are likely to not follow through with their purchase
Few payment options: Most customers prefer using one payment method over others. While most shoppers will use the default option, there may be who might leave the site altogether if your website does not support their preferred payment method.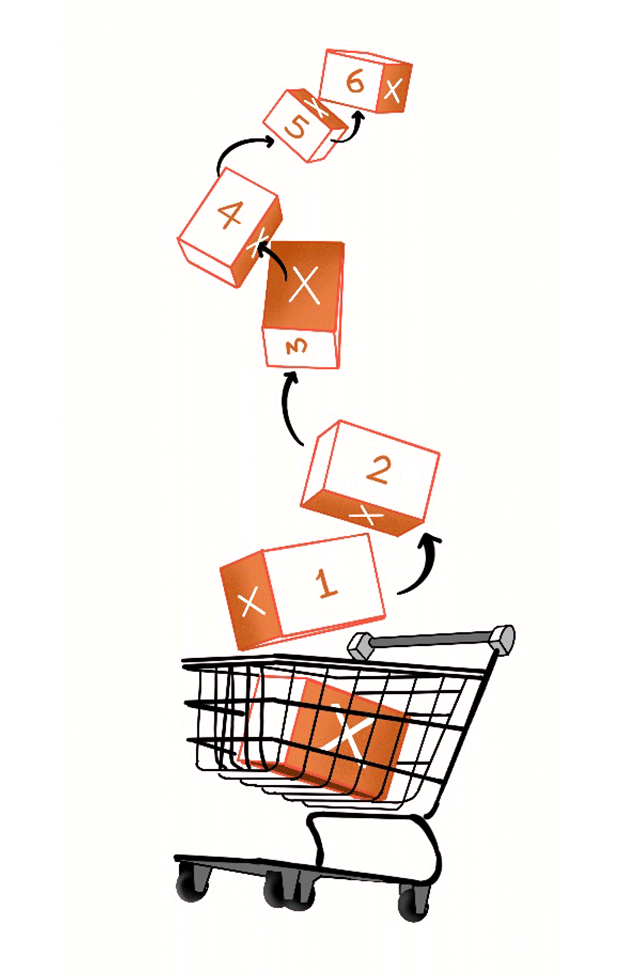 No discount offers: The deal-seekers are a prominent shoppers' segment and will expect a lucrative promotional offer from your store. If you don't provide one, they might turn to your competitor.
Unsuitable delivery times: No customer wants to wait for long periods to receive a delivery. It is directly proportional to a diminished value of shopping. So, keep the delivery times competitive and ensure that you adhere to them.
If you miss mobile optimization, you miss the bus: More than 50% of online customers use their phones to shop. If your e-commerce website is not mobile optimized, you're losing a big chunk of customers. Make your store's design mobile friendly.

Here are some quick cart optimization tips that marketers can deploy to promote a seamless shopping experience that leads to conversion:
A progress indicator on the checkout page is a must: Progress indicators help users understand where they are in the checkout process, and how many more steps there are to go. If the process bar looks almost complete, it serves as an incentive for customers to finish the purchase. Also, by informing customers about the length and depth of the checkout process, you eliminate shopping stress and ambiguity and make the process clearer.
Rely on thumbnails: Include thumbnails of products throughout the checkout process. While making a physical purchase, customers can see what they are buying. While this can't happen during an online purchase, product thumbnails keep these products on top of the mind for customers during the entire checkout process.
Seamless cart-store navigation: Customers want to quickly add items to their shopping carts and then get back to browsing. If the process of moving from cart to store is not kept simple, it will make more customers log out. It makes good business sense to make it effortless for customers to drop items into their cart and return easily to the product catalog. Build logical and intuitive navigation between the checkout and product pages. This will get more customers to convert.
Seamless cart-store navigation: Customers want to quickly add items to their shopping carts and then get back to browsing. If the process of moving from cart to store is not kept simple, it will make more customers log out. It makes good business sense to make it effortless for customers to drop items into their cart and return easily to the product catalog. Build logical and intuitive navigation between the checkout and product pages. This will get more customers to convert.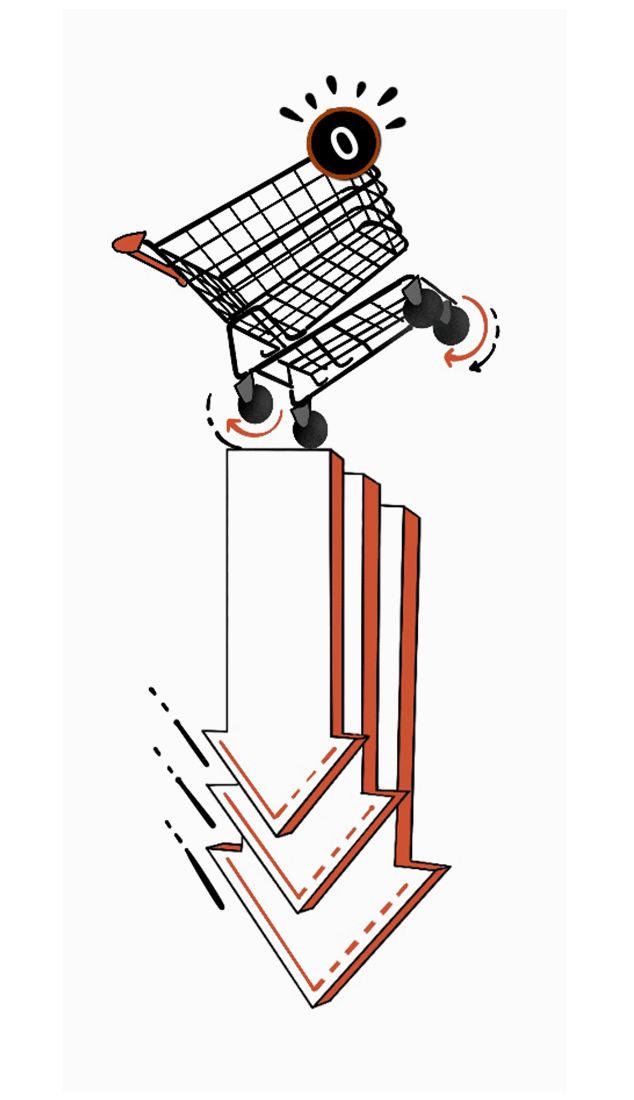 No compromises on page load speeds: Research reveals that e-commerce shopping cart conversion rates drop 7% for every one-second delay in page loading. A customer must never be left wondering if their transaction was completed successfully. Checkout pages that are slow to load are sure to take impatient shoppers elsewhere. Pages that load fast ensure a speedy checkout experience. This will fetch you satisfied, repeat customers.
Add-on guest Checkout Options: Studies show that not offering a guest checkout option is one of the primary causes of shopping cart abandonment. About 14% of online shoppers said that mandatory logging in to complete a purchase was a good reason to abandon the process. If you lock your checkout behind a user wall, you deter new visitors . Instead, offer the ability to check out as a guest. You may find these guest customers return to purchase more.
Live Chat Support: Integrating a customer support option into your checkout process will provide customers instant access to staff who can help them find the items they're looking for or answer their questions. Retailers can use data to find out where shoppers drop off and bring in a customer service executive at this point to talk to the customer and reduce the chances of cart abandonment.
Multiple Payment Options: Modern shoppers use several payment options like credit cards, direct transfers, and digital wallets. Offering only a few will put barriers between you and your shoppers. Multiple payment options, on the other hand, build seamless shopping experiences.
Deploying Marketing Automation to cut cart abandonment
Modern marketers are bringing down cart abandonment rates by onboarding diverse marketing automation solutions that help re-engage shoppers and get them to make a purchase. Here are some tools:
Remarketing: Accept that some customers will abandon their carts. Follow up with them with Remarketing campaigns. If you don't remarket to people who come close to crossing the purchase line, you're not giving yourself that one crucial chance to make the conversion happen. Also, in this multi-device world, it's important to target your potential leads multiple times.
Exit Intent: The tool captures a user's cursor movement on a webpage. If it senses that a user is about to click out, a pop-up shows up on the page, providing offers like free shipping or a money-back guarantee. Customers usually take up the offer, after sharing their email id, allowing merchandisers to grow their database and drive sales.
Retargeting: Modern marketers need to engage their consumers at multiple touchpoints. Retargeting cart abandoners with relevant ads will keep your product in their short-term memory, remind them about the products in their cart and get them to convert.
Social Proof: When a consumer reads a banner: "500 people have viewed this item", she knows a lot of her peers are checking it out. Social Proof messaging builds a sense of urgency around products. It works in two ways: it lets users know about the popularity of a product and also informs them that stocks are running out.
Follow-up emails: Email follow-ups with customers who abandon their carts are a good way of reminding them of an incomplete purchase. The email should provide a link, where they can pick shopping where they left it off.
How Zence Commerce empowers organizations to reverse Cart Abandonment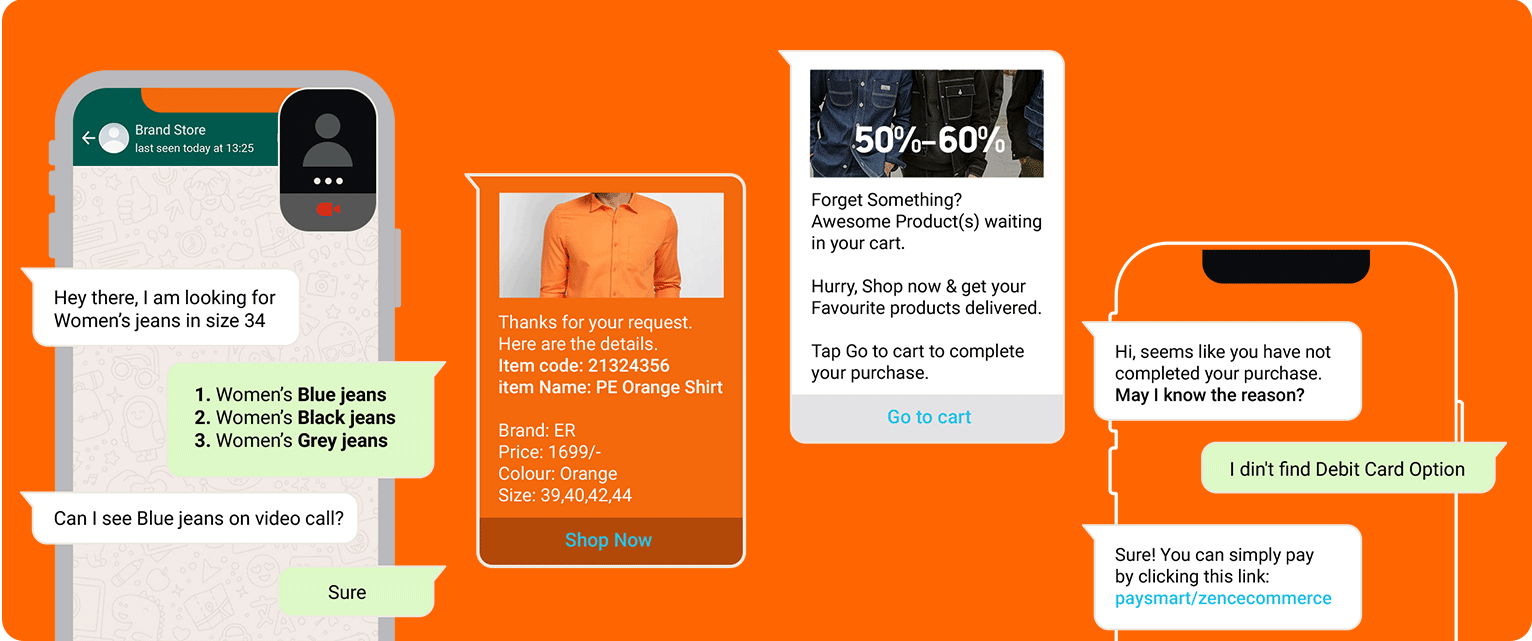 Abandoned baskets amount to about $4 trillion in lost sales, across industries. How do retailers reverse this trend? Zence Commerce Cart Abandonment Solution helps brands turn abandoned carts into successful sales by winning back lost customers over
WhatsApp

. It helps brands increase cart recovery rates by 2X*?
How does Zence Commerce make this happen?
Problem 1 : Lengthy Checkout Process
Long and confusing checkout processes are annoying to customers and can cause shopping stress. If there are unnecessary forms to be filled, it can create confusion and contribute to unease and poor shopping experiences.
Solution : Zence Abandoned Cart Recovery
In order to make the checkout process seamless, the Zence Commerce – Abandoned Cart Recovery solution creates a shopping cart for customers and even sends them a payment link.

Problem 2: Lack of Payment Modes
Lack of a preferred payment option is a big factor that can cause friction in the shopping process and lead to cart abandonment. Modern consumers have become reliant on their preferred payment method and will bounce away from a shopping cart if they can't use their one-click payment process and are made to enter in their credentials and card information.
Solution : Zence Abandoned Cart Recovery
This problem is easily remedied by Zence Commerce solution for reclaiming abandoned carts, as it accepts bank, payment mode and BIN locked offers, besides corporate incentives, credit card and merchant points.
Problem 3: Disengaged Shoppers
Creating trust between you and your customers is crucial. Also, modern shoppers look for seamless and personalized shopping experiences. If they are not engaged with the right message at the right time, they will abandon their cart.
Solution : Zence Abandoned Cart Recovery
The cart abandonment recovery solution by Zence Commerce facilitates several best practices to keep customers engaged. It notifies a company's staff about details of abandoned purchases. Additionally, it sends out WhatsApp messages to users at regular intervals, nudging them to buy before stocks run out. Customers are also incentivized to shop with exclusive and personalized discount offers and deals.
Problem 4: Poor Customer Service
If customers have an unsatisfactory user experience on your website or online store, are not provided complete information and clarity on completing the checkout, or can't find the shipping, return, or refund policies easily, then they will not convert.
Solution : Zence Abandoned Cart Recovery
Zence Commerce solution helps brands winback lost sales and empowers brands to adopt a customer-first approach. It does so by helping shoppers feel personally connected to the brand via WhatsApp. In the long run, this fosters trust and builds emotional loyalty. Also, the solution allows online retailers to connect, engage, and support their customers in real-time, thus enhancing their shopping experiences.
Today's online retail world is driven by customer experiences and convenience. To succeed, marketers must prioritize personalized engagement and seamless purchase processes to convert shoppers into paying customers. To achieve this, minimizing cart abandonment is a very important hurdle to overcome.
With the online purchase market booming, it is important to have the right cart recovery strategies and tools in place. Zence Commerce cart recovery solution empowers brands to keep cart abandonment down, and conversions high.