Leverage Customer feedback solutions to elevate your CX strategy
Steve Jobs once said
"Get closer to your customers than ever. So close that you can tell them what they need before they realize it themselves."
Understanding your customers is the first step to create an effective CX strategy. Businesses should be considerate about the importance of customer satisfaction and pay heed to consumer sentiments towards their brands. Furthermore, customer satisfaction and business revenue go hand in hand.
A VOC program is an important pillar for a great CX
VoC defines customers feedback, tells about their experiences with brands- their
products and services.
Capturing customer feedback provides brands a way to:
• Get a holistic view of CX across channels
• Engage with customers in a better way
• Empower customers to interact with brands
• Increase customer retention figure
• Innovate faster than the competition
• Create brand advocates
• Increase ROI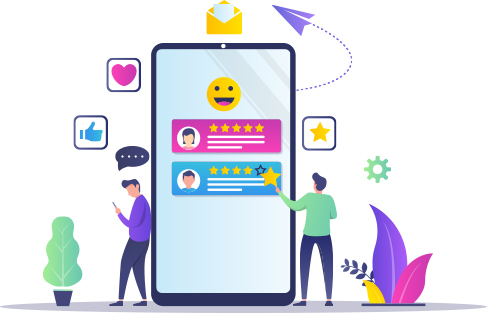 Create a sentiment measure towards the brand
Identify areas where customers are most and least satisfied with the product
Recognize how consumers value your product
Identify the gaps
Measure sentiment change over time
Most satisfied: Leverage in marketing Least satisfied: Understand customer needs and work on it
Optimize strategies
Feed into product roadmap
How customer feedback solutions generally work?
Customer experience will always be at the core of CRM. To build a successful CRM software, brands need to keep CX at top priority.
Popular ways to capture customer feedback:
• Feedback and enquiry forms
• NPS surveys
• CSAT surveys
• Social media
• Live chat
• Online reviews
• Support tickets and emails
• Forums and discussion boards
• Customer interviews
• Website behaviour
• Call centre transcripts and recordings
• Focus groups
Traditional VoC methods (e.g. pop-up or email surveys, polls) can have lag times between starting and results, are too slow and do not provide in-depth research to keep up with today's business pressures.
That's why brands today are turning towards new-age voice of the customer (VoC) solutions. These VoC solutions go beyond surveying, take feedback from siloed channels and form a unified approach that covers the complete customer journey across multiple channels.
The pandemic has had a significant impact on the habits and shopping attitudes of consumers. Shopping patterns have altered. People are making less shopping trips and are buying more per visit. Given the current scenario, it has become vital to understand and take instant action as per the voice of customers.
One of the biggest challenges for businesses this time is to survive. Smartly designed VoC programs can help brands keeping a real time pulse on consumer changing behavior to cope with the demand of new-world consumers.
VoC in action
Voice of customer programs include an array of tasks- from data collection to extracting customer insights & putting them to action. The programs further provide an opportunity to uplift your brand experience.
Unified Feedback Engine to know your customers better
Easyrewardz Collecta aims to serve as an intelligent end-to-end platform for gathering feedback across multiple customer touchpoints, providing real-time analytics and text analysis, with an in-built escalation management system to enable brands to capture sentiments and improve overall loyalty index and customer satisfaction.
Request a demo to know how Easyrewardz Collecta can help you redefine customer experience.