Key takeaways from the webinar: Redefining patient experience strategies for 2022 & beyond
How will technology redefine patient experience strategies in 2022 and beyond? Hear it from the experts, at Easyrewardz webinar on Redefining Patient Experience Strategies, where a panel of Healthcare CRM leaders came together to share their knowledge and experience on tech adoption in the sector.
The Covid-19 pandemic caused overnight disruption in the global healthcare sector. An industry that worked with numerous siloed systems had to suddenly streamline workflows and find seamless ways to interact and communicate with patients. Technology set the wheel of change rolling for the industry, as healthcare solutions like CRM systems became a part of the mainstream. Smart solutions helped medical institutions manage the entire patient lifecycle—from patient acquisition to engagement, and retention to provide optimal, patient-centered experiences.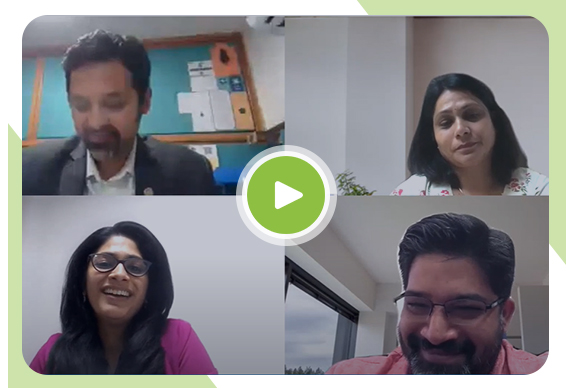 The webinar was powered by Microsoft and Easyrewardz and organized by UBS Forums on 4th March, 2022.
The panelists comprised Soumya Chatterjee, Co-founder and CEO, Easyrewardz | Archana Sangam, Head of Customer Experience and CRM, Motherhood Hospitals | Bhavana Yerrumreddy, Country Leader – Retail, Healthcare & Growth Vertical, Microsoft and Archana Gupta, Group Head, Patient Experience, CK Birla Hospitals Ltd, while the session was moderated by Dr Saurabh Lall, GM, Hospital Operations, Max Healthcare.
Healthcare Sector: A total transformation
It was a revolution waiting to happen. "The healthcare sector witnessed a technology-driven transformation after the Covid-19 situation," said Dr Saurabh Lall, as he set the context for the webinar. The pandemic propelled healthcare organizations to go back to the drawing board to redesign patient services and experiences. End result: a metamorphosis that would have taken a decade, happened in two years, added Dr.Lall.
As Covid-triggered disruptions changed the way the healthcare industry works around the world, what impact will it have on the sector's future growth and evolution?
Bhavana Yerrumreddy, Country Leader – Retail, Healthcare & Growth Vertical, Microsoft, shared her thoughts on what she considers the most significant tech-driven changes that the industry has seen:
Telehealth gained huge traction: With the concept of teleconsultation garnering high patient satisfaction rates, 70% of the population is expected to access virtual healthcare in a post-pandemic world as well.

Interoperability became the new normal: Before Covid came calling, healthcare organizations ran on different, siloed tech systems. But a need to streamline patient information and workflows, saw single-window solutions like Healthcare CRM becoming must-have tools to integrate information and create seamless experiences across touchpoints.

Technology helped personalize patient experiences: In the last two years, we have seen technology play a huge role in aligning healthcare enterprise strategy, personalizing patient experiences, and providing the best patient care and operational excellence.
Data integration in the healthcare sector
Improving remote patient engagement requires integrated and seamless data exchange, to ensure that healthcare providers have access to all key patient insights. However, while 90% of healthcare organizations have all the data locked away in their data banks, it is usually not in a structured format.
What's more, dealing with patient information puts important questions, like ensuring data security, on the table. Handling high volumes of data always makes organizations susceptible to security risks – and a healthcare data breach comes with a fat price tag, to the tune of $7.13 million, according to IBM Security's data breach cost report, informed Ms. Yerrumreddy.
Elaborating on the data challenges that the healthcare industry is facing, Ms Yerrumreddyput two key points on the table, that medical organizations need to address.
With large volumes of unstructured data, healthcare providers spend exorbitant amounts of time gleaning insights from the data.

70% of the time that healthcare providers spend on analyzing data is wasted in ingestion and data unification.
Once healthcare data is streamlined using tools like CRM solutions, incisive insights into patient and operational workflows will emerge as a game-changer for the industry. Industry watchers can look forward to seeing the sector get onto the growth road, towards data compliance, security, and reduced clinician burnout, summed up Ms.Yerrumreddy.
Using technology to manage patient lifecycle
How do healthcare organizations make a lasting and positive impact on their patients? By driving innovation and customization.
Traditionally, healthcare institutions have not worked towards building long-term relationships with their patients. "Once a patient is treated or gets discharged from a hospital, it becomes their responsibility to schedule follow-up visits and book appointments. A patient reach-out program was never on any hospital's radar," said Soumya Chatterjee, Co-founder, and CEO, Easyrewardz, as he explained why the company decided to roll out a holistic patient lifecycle management solution.
As technology intervention takes center stage – and supersedes human intervention – in the healthcare sector, hospitals are harnessing the power of tools like patient lifecycle management platforms to automate patient interaction processes and workflows.
How do tools like the Easyrewardz Healthcare CRM solution help organizations manage lifecycles better, shape perfect patient experiences, and create patient-centered journeys?
Provide personalized patient experiences: Predicts patient behavior and sends personalized messages via a patient's preferred channel.

Intelligent automation: Automates patient-doctor mapping, appointment scheduling, feedback management, and ticket management.

Easy integration: Easyrewardz Healthcare CRM can be easily integrated with crucial tools used by healthcare institutions, like patient information systems, appointment schedulers,, billing software, and more.

Unify families under common folders: The account management features of CRM put all family details together in order to track a patient's history, genetic conditions, and the appointment history of family members.

Add the power of mobile enablement: A robust mobile CRM empowers healthcare professionals to automate processes like communicating with patients, scheduling appointments, checking room availability, and more.
How Motherhood Hospital used technology to create seamless patient experiences
When Covid-19 struck, it became a big challenge for a single specialty center like Motherhood Hospital to reduce physical interactions, recalls Archana Sangam, Head of Customer Experience and CRM, Motherhood Hospitals.
The hospital adopted technology in a big way to create seamless virtual doctor-patient interactions and even manage ICUs remotely. "It was like an eruption of technology adoption," is how Ms. Sangam defines the tech-induced transformations that happened at the hospital. She also laid out the roadmap of how Motherhood Hospital went about its tech transformation journey:
Video-powered teleconsultation became a norm

When a baby was admitted to the ICU, parents were given 24×7 remote access to constantly monitor their child

All engagement, throughout the pregnancy journey, happened through automated communications.

Everything from antenatal classes to Lama Sessions went online

Technology-based interventions were deployed to remind patients or their caregivers about tests, follow-up visits, and other milestones

The hospital used WhatsApp messaging to stay on top of their patient's minds, using visually impactful communication. So, every little thing like a scan reminder or a vaccination alert came with appealing images instead of just plain-vanilla text. This impacted retentions immensely.
Bringing patient centricity into patient care
There are many paths that led healthcare organizations towards technology adoption. CK Birla Hospitals' tech transformation journey started with listening to its customers and collecting feedback in real-time. This feedback did not just cover interactions with the doctors and nurses. It also included micro-level details like the quality of the food served at the hospitals, elaborated Archana Gupta, Group Head, Patient Experience, CK Birla Hospitals Ltd.
Speaking about how CK Birla Hospital used technology to put the patient at the center of its engagement strategies, Ms. Gupta highlighted the two-pronged tech-implementation approach that they followed:
Improving processes like appointment scheduling management, streamlining the appointment health line, and improving the discharge tracker.

Building lasting patient relationships by using tools to help the hospital connect with patients one-on-one and send relevant communication like medication reminders.
One of the biggest technology interventions accomplished by CK Birla Hospitals was the streamlining of its insurance processes. "This was a major patient pain area that was effectively improved by using technology to create a three-way connection between the insurance company, hospital, and patient, to share documentation faster, and receive quick query responses," Ms. Gupta explained.
Going forward, the healthcare industry is expected to use technology in a big way to personalize patient experiences and align enterprise strategies towards providing clinical value, the best quality of patient care, and operational excellence. Care will no longer be cost-based. Instead, healthcare will evolve into an industry that provides value-based care.
Get Started