How retail brands can boost sales and provide safe consumer experience during festive season 2020?
In India, purchase decisions during festivities are mostly driven by emotions. Festive season gives brands an advantage to remind their customers about the Indian culture by associating it with their products. Now considering COVID-led consumer behaviour, brands should plan out effective marketing strategies to make a better connect with consumers and thrive during the festive season.
Times have changed and so has consumer behaviour. With people still skeptical to step out and shop, businesses have high hopes on this festival season for their sales.
During festivities people are interested in buying new things. This is the time to deepen the connect with consumers. Brands should target on this propensity of customers to deliver personal touch virtually by introducing attractive offers, putting customer relationship first.
CONNECT, CONVERSE, CONVERT
is the key to win customers

With the increased role of technology in everyday life, the way consumers interact or shop with businesses is changing rapidly. Both brands and customers are looking for more accessible way of communication with each other. Hence, brands are shifting to conversational commerce to connect with customers and increase sales.
Here's a look at what conversational commerce is, why every industry should leverage it, and how to adapt conversational commerce to your business. Business is not one size fits all. Every industry requires a custom solution. Conversational commerce is trying to fill that gap.
Conversational Commerce for every industry
Fashion and Apparel
Conversational commerce enables shoppers to find the clothes and accessories they are looking for; through virtual shopping assistant. Store manager uses WebBot and WhatsApp bot to provide personalized recommendations, exclusive offers and discounts.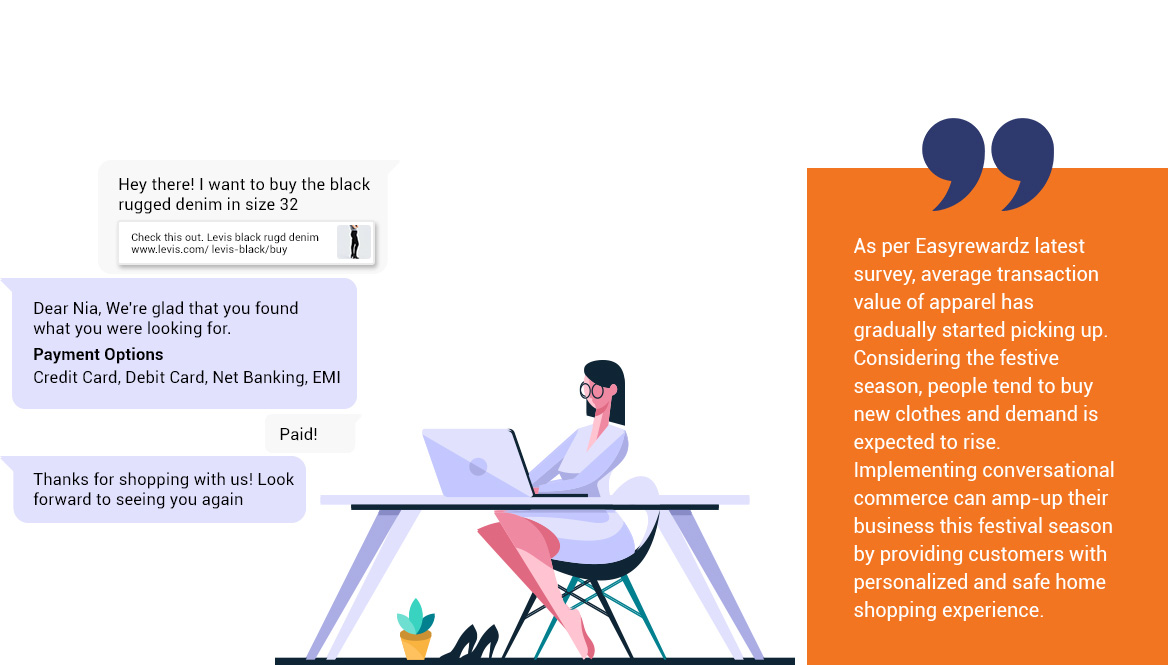 Jewelry
With the upcoming festive and wedding season approaching, let your jewel business outshine. Schedule in-store appointments for a safe and fulfilling shopping experience.
As per a coverage by Livemint, "Several jewellery chains are opting alternative channels to push sales of goods as consumers remain wary of visiting stores in view of the pandemic."
As per news reports- Top jewelry brands like Tanishq, Malabar Gold & Diamonds have started inviting customers by appointment. WhatsApp Bot and WebBot allows customers to book appointments at their preferred hours. Besides, they can browse products, ask for recommendations from store staff — do it all through virtual shopping assistant.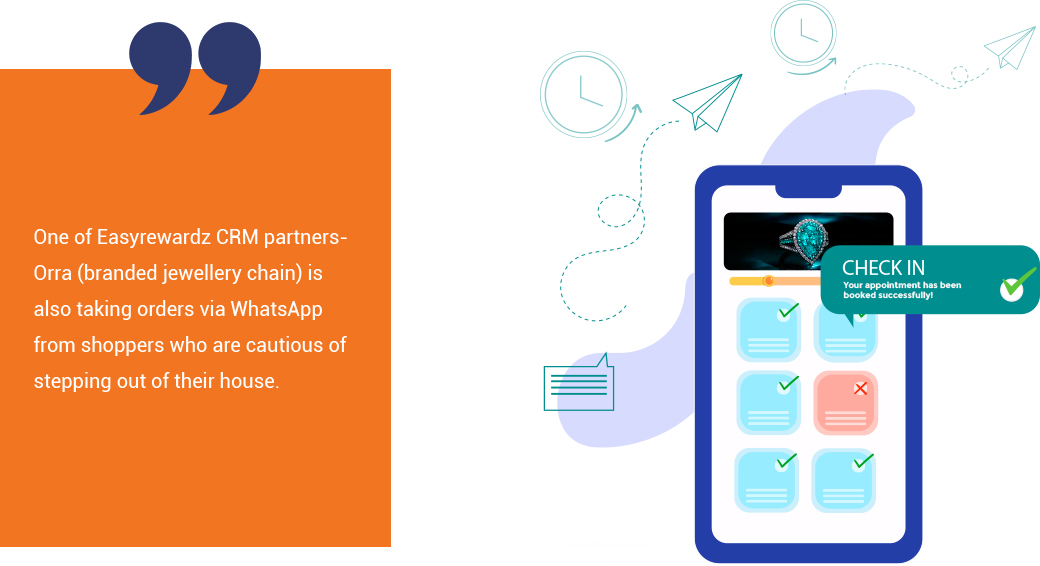 White Goods
According to industry body Consumer Electronics and Appliances Manufacturers Association (CEAMA), "The consumer electronics industry is expecting double-digit growth in sales in the upcoming festive season, which will be further supported by absence of domestic helps and people working from home. However, there is another key driver, i.e. consumers are looking for a substitute for domestic help amid health safety concerns due to COVID-19."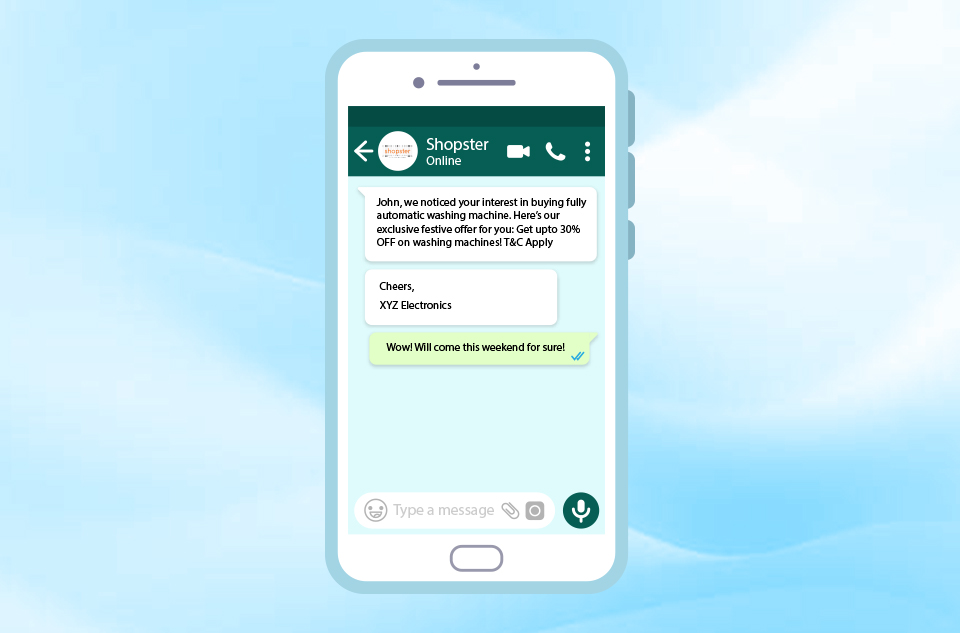 Considering the spending interest among consumers, brands dealing in the categories should redefine their marketing strategies to drive sales. Send push notifications or communications with personalised offers and discounts to make consumers visit the store.
Beauty & Salon
A pun was doing the rounds during lockdown that once it gets all over, people will show their real colour (think hair)!
Gone are the days when customers would accidentally walk into a salon as owing to the pandemic, service by appointment has become the new norm. To ensure social distancing, most salons are only catering to appointment-based visits. They are doing everything possible to reinstate confidence in consumers.
Most beauty salon chains have also moved to contactless billing, wherein they encourage customers to pay digitally and get e-receipts via WhatsApp.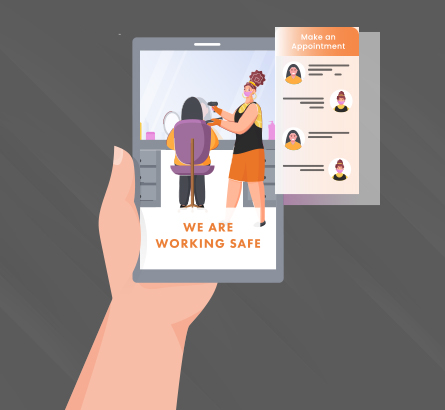 Know how
Shopster
– Conversational commerce toolkit can amplify your business while providing consumers with safe and seamless shopping experience.