Top customer relationship management (CRM) trends to look out for in 2021
Customer Relationship Management is one of the most critical functions of Retail biz. When implemented successfully, CRM software helps you in knowing your customers, motivating them, contributing to increased retention rate and hence, business growth.
And, as the old Greek adage goes "The only constant is change", it also applies to CRM industry, which continues to evolve due to change in technology.
Also, owing to COVID-19 crisis, retailers are revisiting their strategies and upgrading their CRM systems.
Here are some top predictions for CRM industry in 2021 including robust features, automation, easy integration etc. Scroll down for more:
1. Artificial intelligence and Chatbots
AI-powered chatbots enable users to perform their everyday tasks more efficiently, automate customer conversations, predict customers behaviour, increase customer retention etc.
As per a study by IDC, "By 2021, AI-powered CRM activities could increase global business revenues by $1.1 trillion."
Learning from AI (AI-powered recommendations & campaigns for relevant conversations with customers) has paved the way for Easyrewardz to pivot Shopster, a conversational commerce toolkit.
Empower your CRM with Shopster- a Conversational AI-powered Chatbot
The plug-n-play toolkit assists brands in making real-time conversations with customers on their preferred chat platform, allows customers to take buying decisions, helps build customer loyalty and attaining better brand recognition.
Want to know more about its exclusive features like WhatsApp Shopping, Appointment Scheduler, Digital Receipts and Payments? Explore Shopster
2. IoT and CRM
While we discuss the trends shaping CRM in 2021, Internet of Things (IoT) is one of the biggest game changers in the coming year.
Internet of Things is the 'connection of devices' using internet while Customer Relationship Management is the 'collection of customers data' through data mining which provides useful customer insights for market segmentation.
Benefits of IoT and CRM integration
• Provides an advanced level of personalization
• Increases customer satisfaction
• Improves customer retention
• Reduces response time
A
• Provides personalized CX
• Detects product performance issues
• Provides valuable real-time data to CRM systems to help product companies in increasing sale, product/service promotion
As per a report published by Statista.com, "The total installed base of Internet of Things (IoT) connected devices is projected to amount to 21.5 billion units worldwide by 2025."
IoT holds assured promise for Customer Relationship Management. Brands can reap the benefits from this integration by delivering tailored services and exceptional support.
3. CX when put together with CRM, will be the game-changer
Customer experience will always be at the core of CRM. To build a successful CRM software, brands need to keep CX at top priority.
"The Key to Great CX is Customer Convenience"- Shep Hyken
A CRM system should have an interface that is user-friendly, makes it easy to access and analyse data, caters to your business's unique needs. gives you a 360-degree view of customers and makes it convenient to interact with customers.
There are multiple ways to create a rewarding CX and use CRM technology to meet customer expectations:
• Live chat for quick assistance
• Automated knowledge bases
• Unifying customer data to get Single View of Customers to better understand their journey, past interactions and preferences to offer tailor-made solutions
• Data enrichment to demonstrate complete customer journey and support tickets
Suggested CRM Software:
Upgrade CX with the best CRM tools- Bell (Ticket management system) and LPaaS (Loyalty program toolkit)
• Bell is a one-stop platform to improve customer communication through ticket management
• LPaaS is a comprehensive Loyalty Program Toolkit to delight, engage and reward customers. It builds brand affinity by rewarding customers on reaching brand milestones.
4. Social and Mobile CRM pave the way
Merging mobile and social with CRM gives companies insights about how their brand is perceived by their customers. By using social CRM to solve consumer queries, companies can forge strong relationships with them and take constructive feedback to create future campaign strategies.
WhatsApp, one of the most popular instant messaging apps, is increasingly becoming a leading tool in CRM. Enabling WhatsApp helps businesses to engage customers from notifications like appointment reminders, offer alerts, payment notifications etc.
According to a Social Media Examiner survey,
"89% of respondents said social media increased their brand's exposure, while nearly half reported that spending just 6 hours a week on social media activity reduced overall marketing costs".
A mobile CRM software can boost your brand's relationship with customers and have a direct impact on your sales figure.
"Forrester statistics have shown that 50% of teams improved their productivity by using a mobile CRM."
By interacting with customers on their preferred channels, brands can optimise service levels and the multi-channel customer experience. This also enables businesses to improve on customer service by responding seamlessly in the way that suits the consumer best.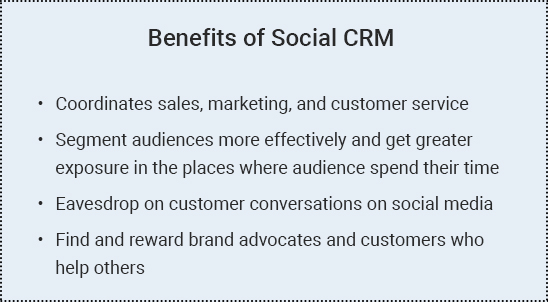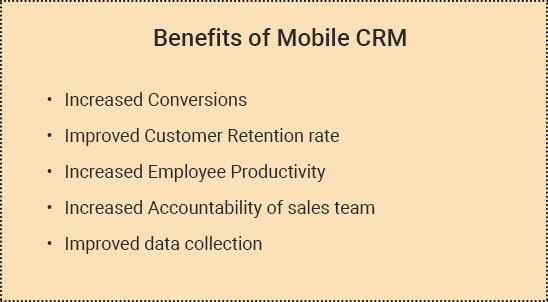 5. Analytics features are the must
Data is the key to creating a successful CRM software. Data drives everything including personalization of communication, offers, campaigns and customer experience.
As customer interaction continues to evolve with new ways to engage, the need to turn customer data collected into useful information has become increasingly important.
With access to advanced data and analytics, brands have an edge when it comes to identifying problems, solutions and opportunities. Thus, recognizing the same, brands are on the lookout for powerful analytics tools to process and report on their data in real time.
It is designed to identify customer groups that are likely to bring in the highest ROI, thus allowing businesses to focus their advertising, marketing, and sales efforts on their most valuable demographics, ensuring higher profits over time.
Suggested CRM Software:

• Looking for a unified campaign engine to connect and engage with customers? Explore CliX
• Drive retail excellence through customer insights with Customer data platform . The platform enables brands to run a knowledge-driven business by leveraging 360° customer lifecycle management solutions that transform customer data into actionable insights.
6. Take the lead with Self-service CRM
The latest concept in Customer Relationship Management is Self-service CRM. With the rise of automation, bots have become an integral part of CRM. Bots now complete most of contact management tasks, thus saving manual labour.
Self-service CRM is an effective system that brands use to build their customer base. It enables customers to access relevant information basis their needs and provides them with online tools, enabling them to pick and choose what they want.
7. Conversational Design
Conversational UI helps businesses in connecting with people in an intuitive way, enhance user experience and generate revenue. Furthermore, brands will observe distinguished transformation in brand-consumer relationship.
8. Higher level of integration
Successful CRM integration offers unified connectivity between CRM software and third-party applications. By being integrated with other business systems, CRM software will be able to get a combined view of the customer journey and deliver relevant data.
Easyrewardz Customer Data Platform stitches together a Single View of Customer (SVC) collating signals, & interactions from multiple touchpoints to enable holistic customer experience across all channels.
And…It's a Wrap!
Time and technology are changing, so is CRM. But trends like mobile and social CRM, the Internet of Things, AI & more are here to stay with us in 2021. By adopting these CRM trends, businesses will know what to look for while choosing the best CRM software for their company.
Easyrewardz provides cloud-based customer management solutions and services, with an omnichannel approach across industries including – Fashion & Lifestyle, retail, banking, hospitality, healthcare, food & beverage and wellness. The company is disrupting the landscape with continuous innovations leveraging AI, ML, Data sciences & other cutting- edge technologies.