Retail sector across the world has been hit hard by coronavirus crisis. Retailers are witnessing closed stores, huge losses, and disrupted supply chains. Consumers are also likely to curtail their spending on non-essentials. Evidently, consumer shopping behaviour has changed drastically.
To successfully navigate through these uncertain times, retailers need to chalk out new plans to restore consumer confidence and meet their preferences as buying patterns continue to evolve. Times like these also require new and innovative ways to engage consumers.
Implementing new technologies will allow brands to serve their consumers in a more efficient manner. Know how technology can help retailers be future-ready:
Technology will be indispensable for fashion retail post COVID-19 pandemic
Transformation revolves around the need to unlock new opportunities and drive growth. The current crisis has led people to rethink their daily routine. Consumers are shifting towards digital technology and low-contact ways to access products and services.
Stores that embrace new technologies to create a safer environment for the shoppers will be the first to chart a road to recovery.
It's crucial time for brands to invest in technology to reinforce the business. Have a look at the top technological trends to reshape fashion retail industry:
1. Live shopping – a new boom in 'shoppertainment'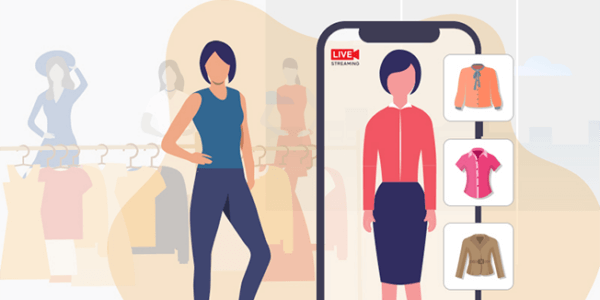 Live stream shopping promises to transform retail industry and consumer buying habits post the coronavirus pandemic.
"The concept of live stream shopping has gained popularity overseas, particularly in China. As per a study by Capegemini, live streaming shops in China increased by over 700% during the lockdown."
Retail brands should take lessons from China and embrace live streaming to allow retailers to interact with distant customers in real time.
2. Conversational AI – Turn conversation to conversion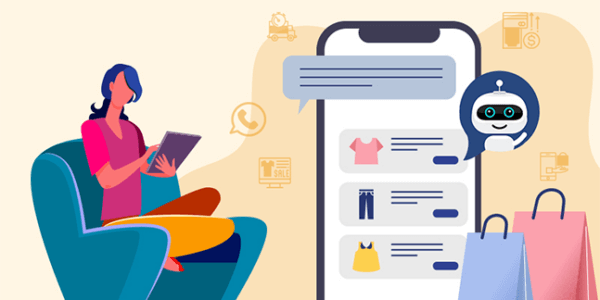 The term 'Conversational Commerce' is no longer a new buzzword but a proven technology for driving sales across retail industry. Brand's store managers can connect with consumers, assist in product discovery, send personalized recommendations & offers and facilitate fulfilment— all using a virtual personal assistant.
• Enables two-way communication
• Helps track user behaviour
• Helps generate sales
• Boosts customer engagement
COVID-19 crisis and social distancing norms brought enormous changes in consumer behavior. One of these changes is 'contactless' sales that would reduce or eliminate the need for physical contact with store staff and other shoppers. This further has given a significant boost to conversational commerce.
As per a consumer sentiments survey conducted by Easyrewardz, "77% consumers are likely to shop from a brand via a chat app."
Leveraging Conversational AI will help retailers to directly connect with consumers on their preferred platform, enables sales and foster meaningful customer relationship.
3. Augmented Reality and Virtual Reality – The new retail reality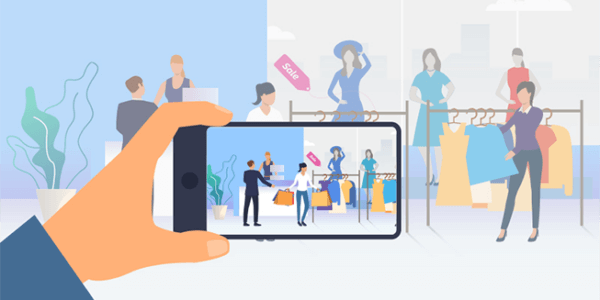 Implementation of AR and VR technology in retail helps buyers and brands alike have a better experience by offering an engaging experience to customers and reducing operational costs for retail players.
"Digi Capital forecasts that the AR and VR market will hit $150 billion in revenue by 2020, bringing in about $120 billion and $30 billion, respectively."
From offline to online, the concept of virtual trial rooms is gradually gaining the grounds in retail industry. The selection of products like apparel can be made with augmented reality systems. Consumers can try on clothes without the hassle of entering fitting room repeatedly. Not just online but virtual fitting room concept is enhancing the buying experience for in-store consumers too.
The smart virtual mirror in stores is a combination of augmented reality and RFID technology which acts as a virtual fitting room. Many stores are using this as an interactive mirror in their trial rooms.
Connect with your customers in a whole new way- Harness the power of Conversational Commerce with

As all reel from the coronavirus shift, retail sector is planning for a post-coronavirus world considering the 'new-world' consumers.
Easyrewardz has recently launched a new product 'Shopster' for retailers to create seamless shopping experience with conversational commerce.
The innovative offering empowers retailers by allowing the consumers to discover & shop products of their choice from their homes.
With Shopster COVID-19 Retail toolkit, Easyrewardz aims to help fashion retailers charting road to recovery by redesigning the marketing strategy to boost store sales and deliver fulfilling shopping experiences.