Riding on
Customer Service
to Drive Seamless CX
and Retention
As the old adage goes,
"A careful person can afford to be carefree. A careless person cannot be carefree."
Be careful towards your customers and they will turn to fearless buyers when it comes to your brand and hence, faster conversions.
In today's business ecosystem, it takes much more than a great product, a line-up of angel investors, or the best employee perks to keep a company sailing strong. What is that key ingredient that's the differentiator between a successful and ordinary business? Short answer: Customer Service. Ensuring that your customer stays delighted throughout their interaction with your brand is critical to keep your business growing.
This brings us to very crucial question: What is Customer Service? It is a sum total of all those small interactions that play out between a brand's executives and a customer that make the customer feel important, valued, and heard. This interaction need not be confined to a shop floor. It could be with a customer service executive who answers the phone, who's manning the buy-online-pickup-in-store desk, a warehouse worker, delivery partner, or a driver. Any employee who serves a user needs to know the company's tenets on customer service as well as the exact steps to deliver it repeatedly.
Deliver Seamless Omnichannel Customer Experience
Modern companies create success stories by delivering outstanding products and services, the best in-store experiences, out-of-the-box marketing strategies, a growing customer base, and repeat purchases. Great products are the first prerequisite to grab a customer's attention. However, in the long run, if you add excellent customer service and consistent customer-centric experiences to this equation, you can turn casual browsers into buyers who eventually become loyal consumers. After all, studies show that 81% of companies that have the required capabilities and competencies to deliver seamless & personalized customer experiences outperform their competition in terms of both revenue and user retention.
In a customer-first world, where personalization and keeping a finger on the needs and preferences of users have become a ground rule, customer service has emerged as the cornerstone that provides businesses with a competitive advantage.
In this blog, we dig deep into the realm of Customer Service – understanding what it is, why it has become a critical component of modern marketing strategies, how companies can build the best CX, and what the future entails for customer service.
What is Customer Service ? Why it is important?
Customer Service is about providing tailor-made experiences that show your business prioritizes fulfilling user needs as much as it does making a sale. When customers seek support – be it before, during, or after a sale – they expect the process to be efficient, easy, and smooth. A brand that provides such a customer experience paves the way toward higher user retention, better experiences, and bigger revenues.
What are the reasons that customer service plays a critical role for companies in today's competitive business environment?
Acquiring a new customer base costs more than retaining existing ones. Seamless customer service helps convert casual purchasers into loyal customers. If a user is confident that a brand is always available to extend support and address issues post a purchase, it goes a long way in promoting customer loyalty
For modern customers, peer reviews and feedback work better than paid advertising. It's become common for users to rate and review products and services on online platforms. And these reviews are becoming the Holy Grail for fellow customers as they scout for purchase options. This online feedback also goes a long way in determining brand perceptions and shopping decisions. In such a transparent and highly viewed social media environment, bad customer service can get highlighted in minutes. Negative customer reviews can damage a company's reputation and leave brands grappling with damage control
What are the factors that contribute to creating the best customer experiences?
Personalized customer experiences that are driven by a team of trained executives who understand the needs of their users and can engage with them constructively and resolve their issues in quick time
Omnichannel and integrated shopping experiences that enable brands to deliver the best purchase experiences across digital and physical platforms
Using analytics, customer data, and purchase history to develop insights that help create curated journeys on any platform that the user prefers to shop from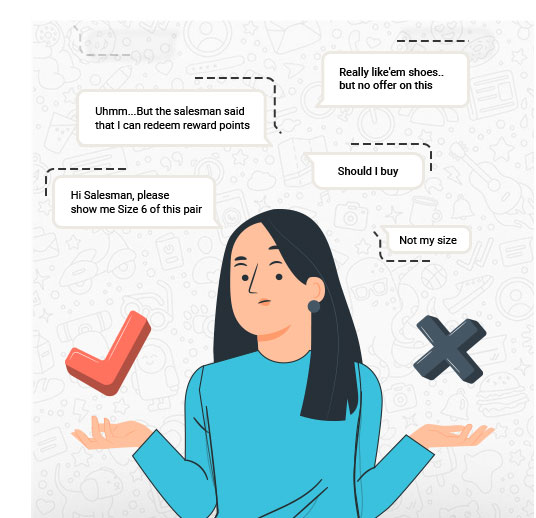 Online shopping is shaping new CX trends
Shopping has gone digital – and how. As the number of online retailers' booms, customers are increasingly expecting new, digitally driven, and customized services. This has completely changed the way brands interact, engage, and converse with their users. Think chatbots, personalized product promotions, one-on-one engagement, and AI-driven customer insights that are used to build customized rewards and incentives.
Customer service has undergone a 360-degree volte face in the new digital marketplace. Studies show that 66% of customers say it takes a lot more for a company to impress and engage with them than a great product. This has propelled customer service to the front and center of marketing strategies.
Tips and best practices to create a cutting-edge customer service strategy
Modern customers do their own research, use social media to unflinchingly air their opinions and shopping experiences, and connect directly with businesses and with other users.
Changing customer expectations have led to a metamorphosis in customer services rendered by brands. What are the best practices that brands need to follow to take customer service to the next level in the age of digital shopping and communication?
Remember: the customer is king: Have a customer-first approach – all the time. Users want immediacy and convenience and brands must steadfastly focus on resolving tickets quickly and making shopping experiences seamless
Provide an omnichannel experience: Get in touch with your customers on a channel of their choice: be it email, voice assistants, messaging, social media, or live chat. Also, if a customer makes a purchase enquiry on one channel, they should be able to carry on the conversation from the point where they left off, even if the next touchpoint is on a different channel. Don't make your users repeat themselves, even if they switch channels
Upsell and cross-sell only when it is relevant to your customer: Don't force sell. Upselling and cross-selling can backfire if the product you're trying to peddle is not relevant to your customer. Use AI-driven customer insights to understand your user's needs and preferences and identify the best product recommendations
Adopt AI to solve customer service challenges: AI has become the go-to tool to improve customer service. It is estimated that businesses are spending $7.3 billion every year to add the power of AI to their marketing and customer service strategies. AI tools are helping brands delight customers with quick query resolutions across channels
Become data-driven: Add the power of information and data to your customer service strategies. This adds value to dialogues and also provides companies with an opportunity to receive and implement customer feedback. Use a right-fit CRM solution to capture user data and analyze it, in order to provide tailor-made experiences
Personalize, customize: Make every customer interaction into a personalized dialogue. This can be achieved by tracking the history and preferences of your users and using the data to talk to your customers on a channel and subject of their choice. Personalization turns traditional customer service into a one-on-one customer journey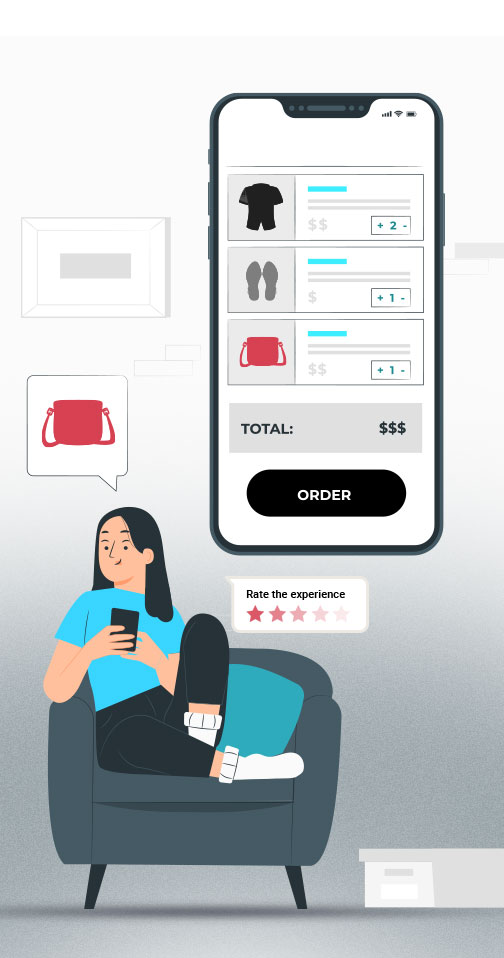 Future forward: Customer Service trends for 2023 and beyond

Customer Service has witnessed more change – and also found itself intensely in the spotlight – compared to any other business function in recent years. As companies adapt to a digital-first environment and rejig their investments in people, processes, and technology, there are some key customer service principles that have gained traction:
Anytime, anywhere customer service – across channels and touchpoints
Automation to provide customer service support across channels and platforms
Keep it simple. Onboard solutions that are easy to implement and use
As we get ready to roll into 2023, let's check out the trends that will define customer service:
Focus on smartphone-powered customer service: Smartphone adoption is booming. According to studies mobile commerce (or m-commerce) will rise by a 25.5% CAGR till 2024. And the mobile phone is not just a tool to purchase. Consumers are increasingly using it to improve in-store experiences, read product reviews, research before making a purchase, and compare prices. Therefore, mobile optimization is a must on the cards for marketers, including website and customer support operations for both text and voice searches
AI-powered chatbots are the new way to communicate: Chatbots are the new stars in the customer service domain. A growing number of businesses are onboarding this tool to automate routine questions, facilitate lead generation, and improve agent experiences. Also, as AI and machine learning continue to see advancement, chatbots are set to become more powerful at understanding the needs of consumers. Chatbots are a must if you want to add wings to your omnichannel customer experience strategy
Personalization = Great customer service: Personalization has been around for some time, but it's now touching epic proportions. If a customer journey is not personalized for a user, it doesn't make the cut anymore. On the other hand, personalization is known to increase open rates and boost sales by 20%. Personalization is about knowing your customer and their interaction history with your brand. Perfect personalization can be achieved by unifying customer data, eliminating data silos, centralizing support processes, and treating every user as a unique individual
Providing support in real-time: When it comes to providing services to modern customers, speed is of essence. For instance, 42% of social media users expect a response to their query within an hour of posting. What's more, live chats and chatbots are all about real-time support. Organizations are increasingly going out of their way to ensure that all communication channels are monitored and no question gets overlooked. This goes a long way in maximizing conversions and improving customer engagement and satisfaction
UX is the new driver of customer service: Studies have shown that 88% of online users do not return to a brand if they have a bad experience. Companies are working around this problem by providing a seamless user interface that boosts conversion rates. What is a good user experience? When the needs of a customer are met seamlessly, without causing any stress on the user

Zence Solutions take Customer Service to the next level
Customers don't just pay for a product – they also look for a satisfying shopping experience. Easyrewardz Zence empowers brands to gain an edge over competitors by delivering cutting-edge customer service and connected experiences. Result? Businesses drive acquisition, engagement, loyalty, retention, and CX. Let's dig a little deeper:
Feedback Management System
Zence Feedback engine captures the Voice of Customer to elevate user experience, giving businesses an edge by enabling them to understand how their customers view the brand and act on the feedback to improve NPS.
Creates conditional flows and logical jumps between questions
Applies rich audience-selection filters like enrolled store, segment, and more
Uses a Customer Delight Index to capture customer satisfaction levels
Enriches customer data and updates their profiles
Uses dashboard support to analyze the performance of each feedback campaign
Send Feedback form links forms via SMS/WhatsApp/Email Integrates feedback forms with Digital Receipts
Logs negative feedback as tickets
Ticket Management System
This one-stop dashboard allows brands to manage, categorize, and prioritize customer communication through multiple channels by converting them into trackable tickets.
Here are some ways in which this one-stop ticket management platform improves customer communication:
Multi-channel support: Streamlines all customer conversations in one place. Tickets can be accessed via email, calls, or social media
360-degree customer view: Brands can know their customers and their past interactions even before they initiate a conversation. This helps them offer tailor-made solutions
Prioritize, escalate tickets: Customers get the right support at the right time, as auto-escalation of tickets provides timely support
Canned responses: pre-drafted response templates ensure consistency, while customized templates add a personal touch
Real-time reports: Intuitive dashboards allow brands to track ticket progress and resolution times
Service Bot
Connect, engage & support customers in real-time and enhance their experience
Automate customer support
Scale your customer service by automating regular queries
Solve complex queries
Escalate complicated queries from bots to live-agents
Instant resolution
Provide 24/7 support for immediate responses with chatbots
Provide suitable response
Understand customer's intent with NLP and NLU powered chats
Sum up: Customer Service is a competitive differentiator
Customer Service is a key competitive differentiator for brands – say 85% of marketing executives in response to a survey. In the modern business world, customers are more connected than ever and need to be delivered services that build loyalty and brand advocates. It's, therefore, critical for companies to not fall behind the curve – in order to survive and thrive.