Strategies to Optimize Your Loyalty Program's Performance
In today's dynamic landscape, retaining customers and driving repeat sales is imperative for long-term business goals. A well-crafted & implemented loyalty program has the potential to not just improve customer satisfaction but also increase customer lifetime value. However, it is not that simple.

To drive ROI exponentially, it is essential to segment customers into groups based on their behavior, preferences, and unique needs that can help brands offer personally meaningful rewards and craft delightful customer experiences.
Personalized & meaningful rewards
Gamification and interactive experiences
Real-time performance monitoring
Capturing feedback & continuous improvement
Leverage the power of data analytics to gain valuable insights into customer behaviour, preferences, and trends as it directly impacts customer satisfaction and experience. Businesses must focus on incorporating data-driven strategies to target the right customers at different stages of their relationships. By understanding your customers better, you can tailor your loyalty program to meet their needs and preferences, leading to higher engagement and increased profitability.


Not every customer shares the same interests. Therefore, it is necessary to segment your customers basis their demographics, purchase history, buying patterns, and preferences with tailored communication, experiences, and offers. Leverage customer segmentation to improve the efficiency of marketing efforts, create targeted communication, and drive customer loyalty.
Modern-era customers expect interactions beyond transactional communication. Loyalty programs can leverage personalization to gain a deep understanding of customer's unique needs and tailor experiences based on them that are more likely to drive engagement and repeat business. To unlock the full potential of a loyalty program and achieve maximum ROI, it is extremely important to keep a continuous check on improving personalization strategies.
4. Multi-channel Engagement
Consumer interaction with brands is no longer limited to a one-way channel but has expanded to multiple platforms. By utilizing multiple channels to engage with the targeted customers, businesses can gather inclusive data and insights, allowing for real-time analysis and evaluation of the program's effectiveness.
5. Personalized and meaningful rewards
Running a strategic rewards and loyalty program can enable businesses to focus on empowering customers with a power of choice, personalized rewards, and meaningful interactions. Offering a wide selection of incentives allows customers to customize their experience and select rewards that align with their preferences. Customers need to feel that their loyalty is being acknowledged. Delighting customers with a valuable rewarding journey can arouse a sense of excitement, motivating them to be engaged and loyal across all touchpoints.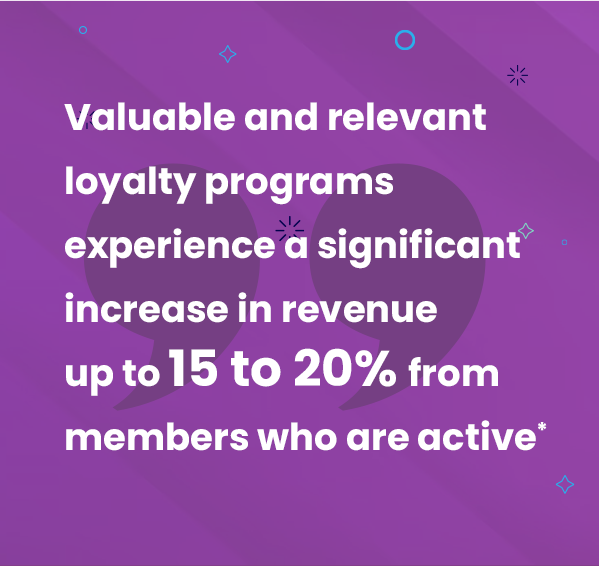 6. Gamification and interactive experiences
Incorporating gamification elements encourages customers to participate in various activities, resulting in enhanced engagement and retention. Incentivizing customers for completing certain actions, like participating in challenges, reaching specific milestones, and encouraging them to refer their friends or family can build brand affinity.


7. Real-time Performance Monitoring
By regularly tracking key metrics and analyzing reports in real-time, brands can optimize their loyalty program to exceed their customers' expectations and accomplish business goals. It also provides actionable insights into user behavior, allowing businesses to personalize offers, and rewards, and deliver a delightful experience.
8. Capturing feedback & continuous improvement
Collecting regular feedback through surveys will help in understanding the unique customers' needs and identifying the areas of improvement for better efficiency. By actively listening to your customer's voice, you can make them feel valued. This can build trust and nurture strong relationships, enhancing the program's value, improving retention, and driving customer loyalty.
The success of a loyalty program requires continuous efforts, evaluation, and effective strategies as it directly contributes to the growth of your business. With the right loyalty programs, businesses can have a loyal customer base.

Unlock the full potential of your loyalty strategies with Easyrewardz cutting-edge CRM and Loyalty solutions designed to build loyalty programs that promise customer retention, engagement, long-term loyalty, and maximum ROI at scale.
Looking to skyrocket your loyalty program's performance?