With everything setting into 'new-normal', retailers are hopeful for demand revival and recovery at least in fourth quarter of the year; during festive period.
Unlock 1.0, which started on June 8, 2020, however has brought slight relief to retail sector but it is far away from the peaks last year during June-July 2019.
"As per a study done by Easyrewardz- Consumer Index Reset- 1.0, Consumers, however are hesitant in visiting stores, yet high-engaged customers and similar cohorts who are associated with brands for more than a year are coming back to stores.
Similarly, loyal customers are frequently visiting the store as contribution of point redemption purchase has shown 2x growth for retailers with matured loyalty program during unlock 1.0 in comparison to last year same period.
The study indicates that sports & footwear industry has the best recovery rate, while average transaction value of apparel and jewelry categories has increased by up to 20% respectively."
This implies that there is initial pent-up demand and complete revival will take time. Need of the hour is rigorous efforts by retailers. While they are following stringent hygiene practices, they also need to adopt robust technology to keep sailing through.
In the last blog — Tech-trends transforming fashion retail in testing times, top technology trends to reshape retail industry were discussed and Conversational commerce was one of the key trends. Let's dive deep into the technology and help retailers turn the tide with conversational AI.
What conversational commerce offers to

Adopting 'Phygital' technology will prosper your business
As per a report by Economic times, festive season in India accounts for 30-45% of annual sales for several consumer industries. But, considering how the crisis has changed the world and businesses upside down, whether the upcoming festive season bring cheer to retail industry — is leading retailers to shift to next-gen retailing swiftly by embracing technology.
Retail landscape has shifted to scheduled shopping appointments, contactless processes, curbside pickups and a blend of online and offline outreach. To restore consumer confidence and meet their constantly changing preferences, retailers are integrating Phygital to attract and retain consumers.
This festive season,
#LightUpYourSales

with Easyrewardz Shopster- Conversational Commerce toolkit
In previous blogs, the importance of going 'phygital' in retail is clearly stated. COVID-19 has rewritten the rules of retail. Considering gradually elevated consumer sentiments, festivals can definitely add to that recovery; if retailing is done the 'phygital' way.
By implementing Shopster phygital toolkit, brands will be able to provide their consumers with tech-enabled, personalized and contactless experience.
Honoured with

'Business Innovation Award'

at

Entrepreneur Awards 2020
Trusted by leading brands
Shopster Product Ideation
Foreseeing the need of robust phygital technology, Easyrewardz swiftly pivoted its existing products to create Shopster — Conversational Commerce toolkit.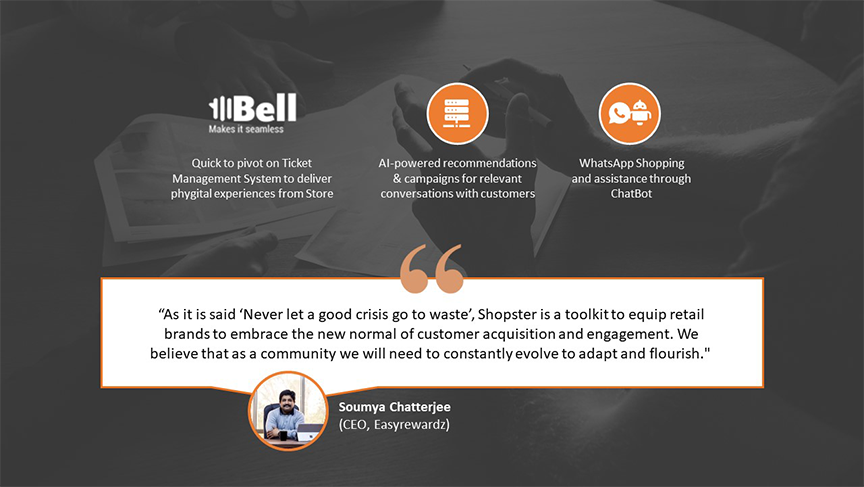 Easyrewardz is a product-based company where the focus has always been to adapt to evolving market needs and cater to clients in better, faster and cost-effective manner. When the pandemic hit, Easyrewardz Bell (Ticket Management System), powered by CDP (Customer Data Platform) was pivoted to deliver phygital experiences from store.
Festive offer on Shopster toolkit- Valid till October 31st, 2020
In view of upcoming festival season, Easyrewardz is providing customized offers on its plug-n-play
toolkit to retailers in order to ensure safe consumer experience while capitalizing on festive period.
To get an exclusive offer for your brand, share your details
here